Erika Nassichuk's Career Path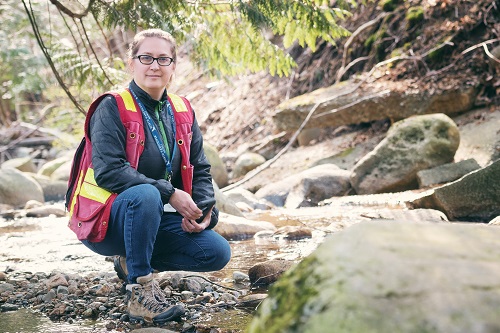 | | |
| --- | --- |
| Home Town | Vancouver, Canada |
| Current Location | Vancouver, Canada |
| Job Title | Environmental Protection Officer |
| Employer | District of North Vancouver |
| Degree Completed in | 2015 |
What are your main responsibilities or activities in your current position?
I review development applications for work to be done near watercourses. I enforce both the Environment and Tree bylaws. I do a lot of work around invasive species. I educate the public and work with local interest groups. I review applications and provide input on stormwater management plans. I work with our own Engineering Department to influence flood mitigation works in order to minimize the impact to our watercourses. I also discuss ESC issues and review ESC and construction management plans.
How did you obtain your current position?
I was a current employee and received a promotion.
What do you like and what do you find challenging about your current position?
I enjoy working with a very close-knit team in order to solve problems and guide development in order to protect our local environment. I like the wide variety of work that we do, and I like being able to talk to the residents in the community.
How does this job relate to your MLWS degree?
I use the skills I learned in the program daily. From how to lead an effective meeting, to discussing stormwater management issues, I use many of the skills I learned during my degree program.
What did you enjoy the most about the MLWS program?
I enjoyed the fast pace and variety of courses offered. I also enjoyed meeting the faculty and my fellow students. I like the mix of more traditional courses, online courses and innovative field trips and projects.
What motivated you to apply for the Master of Land and Water Systems?
I was interested in advancing my career and was looking for a program that would help me to do so. I was also keen to find a one year program so that I could take advantage of policy at my place of work, which allows for up to a one year leave of absence. I also knew the issues in my community and wanted to find a program that could have a direct effect on my work.
Learn more about Erika's work in the District of North Vancouver below!